What should I know when buying a property in Spain? It is a standard question among buyers, especially if you have never had to face a purchase of this size and even more so if you are buying a property in a foreign country and don't know the local laws or requirements. Buying a house is one of the largest purchases you'll ever have to make, which will affect your economic situation in the long term, so you should know what to ask both the agent and the property owner when you are attending viewings.
What you should know before buying a property in Spain
The first thing we can advise you is to be sure of exactly what you want. What town or area do you like? Is the house central? Close to the beach? In a residential area or the countryside? What size? Should it have a garden, garage or pool? Therefore you need to evaluate what your needs will be both in the medium and long term, as well as your budget and be informed about the different mortgage options available, if you need one.
Once you have resolved these questions, you can start to visit houses with a realtor, to whom you will have to provide a series of questions before definitively buying a property in Spain.
1. What is the area like?
If you didn't know, this is probably the most important factor when buying a property in Spain. You've all heard the phrase location, location, location! Regarding the area in which the property is located, it can determine both the price as well as the type and quality of the local amenities available: schools if you have children, shops, supermarkets, commercial centres, public transport connections, places to park, restaurants or bars… All of this you should find out before buying the house.
2. Who owns the property?
This may seem like an obvious question, but you need to check whomever is selling the property is in fact the registered owner. Also, in Spain, for married couples, the deeds have to be in the name of both spouses by law unless they have filed for a 'separación de bienes' or separated capital, so both parties must be in agreement to sell. It is also not uncommon for several family members to own a property, so it cannot go ahead unless they have all expressed the will to sell and are available to sign the necessary documents.
3. Does the property have any debt or other costs?
Make sure that the property is free of debt. Mortgages, repossessions or even unpaid taxes such as IBI (the equivalent of council tax), including personal or inheritance taxes can cause registered charges if left unpaid for a long period of time. Another important charge within apartment blocks, housing developments or gated communities, more commonly known in Spain as 'urbanizations', are the owner's community fees, in which case, if the previous owner has not paid them, can fall on you as an additional cost to cover. Also remember to ask how much the monthly community fee is, which usually covers the upkeep of all the communal areas and services, such as gardens, parking and security.
4. Are any building works due to be carried out in the building?
Even if you don't see any building works underway, maybe the neighbours have planned some changes within the common areas such as a hallway, to construct a ramp or change the lift for example. For this reason it is recommended to ask if there is any type of renovations or maintenance works foreseen in the near future, of which you could be responsible to contribute a percentage towards the cost or could increase your monthly community fee.
5. Are animals allowed in the community?
Normally, you shouldn't have problems moving with pets to your new house, but there are some communities in which animals are prohibited, or at least, certain species. If you have a pet and are buying in an apartment block or development, make sure you consult the neighbours that they don't have any issues with pets within the building or using the common areas.
6. Does it have an energy certificate?
Currently, it is mandatory by law that all properties have an energy certificate. If one does not, it will need to be requested before buying the house, which will save you many problems in the future. Thanks to this particular document you will know how energy efficient the property is, which could also help you save on your monthly electricity bills.
7. Has it passed a technical inspection?
All buildings over 20 years old should have an ITE or technical building inspection, which then also needs to be carried out once every subsequent 10 years. Therefore if you property you want to buy has buildings of that age, you need to make sure it has passed its ITE.
8. What useable square meters does it have?
When we talk about an '80 meters squared house' we mean the meters built, which also includes structures such as the internal and external walls etc. Therefore, you need to find out what the usable square meterage is, which is the true space that you will have to put your furniture and other items you have for your house.
9. What is the total plot size and where are the boundaries?
As well as the construction size, it's also good to know how large the plot or external areas are, such as terraces, gardens or land, and exactly where the borders lie. You should also find out what areas you actually own and what is shared, as you should never assume that everything you see on the property is yours, such as a parking space or driveway, which may seem to be part of the same square plot, but could in fact be owned by your neighbour.
10. Were the right planning permissions in place when the property was built?
It's necessary to ask if the property has all the correct planning permissions for the build as well as for any extensions, outbuildings or a swimming pool for example that may have been constructed since. For the main dwelling you will need the 'Primer Ocupación' or First Occupancy License, and all constructions should have been granted a 'Fin de Obras' certificate, which is provided at the end of any building works that have been completed and correctly registered. If not, the property owner will need to request these and pay any outstanding duties before sale.
11. Does the property have a shared or private pool, if not can I build a pool?
If having a pool is a priority for you, then make sure you ask your agent to add this to the top of the list when searching properties on your behalf, as it is not always possible to build one and it can take time obtaining the permissions. Also, find out if it is private or shared, which could also be an important factor for you. If you find your dream property and there is space on the plot for a pool, then it is important to ask your agent, before you buy the property, to check with the right authorities, such as an architect or the town hall that permission can be granted within the current plans. It's also good to find out what the time and cost will be to factor it into your budget. Furthermore, if the property is on special or rural land, in many cases the construction of a pool will not be allowed at all.
12. What do I need to know when buying a rural property or plot of land?
The most important question to ask if you are buying a rural property in the countryside, is if it is on special or protected land, as that will greatly influence what you can do with it in the future, including if you want to extend the property or construct outbuildings or a pool for example, as previously stated. Also, find out how water and electricity is supplied, as some rural properties do not have connections to the mains or local water supply. Many rural houses have a well or 'deposito' which is a large refillable tank, so check that there is plenty of water in the well and the supply, cost and timing of filling the tank as and when required. Also, find out how waste is managed, whether the property is directly connected to a sewerage system or there is a sceptic tank that will need to be emptied on occasion.
If you are looking to buy a plot of land to build a property, don't just assume you can get planning permission. In Spain it is much more difficult to build a house on land that has no existing structure or has been classed as 'urbanisable', so it's paramount that development is allowed on the plot before you buy.
Now that you know what to ask when buying a property in Spain, you just need to make sure that it fulfils all the requirements to go ahead and buy it and to avoid any nasty surprises when you start your new life there.  To find out more about this subject, download our free 'Ultimate Guide to Buying Property in Spain' e-book by completing the form below.
Free E-Book: Ultimate Guide to Buying a House in Spain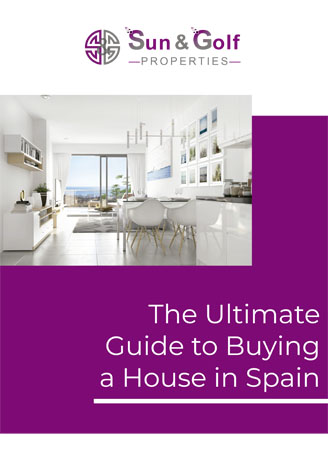 If you are looking to buy property in Spain, and would like to know more information on the local property market, buying process, taxes, costs, legal and financial assistance, then download our FREE E-Book today!